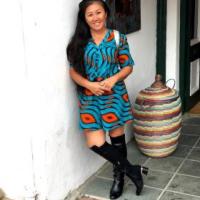 Piyanai Jenny Kunna, E.I.T.
Energy | Sustainability Engineer
Job Description
The City of San Diego adopted its historical Climate Action Plan (CAP) in December 2015. The legally-binding CAP sets ambitious goals to cut the City's carbon footprint in half by 2035, as well as achieve specific targets in five key strategy areas: (1) energy and water efficiency for buildings; (2) one hundred percent renewable electricity citywide; (3) fifty percent commute trips by biking, walking, or transit; (4) zero waste; and (5) climate resilience. As an sustainability engineer, I participate in research, analysis and implementation efforts toward the City of San Diego Climate Action Plan goals. Current projects focus on Goals number 1. Energy & Water Efficient Buildings and 2. Clean & Renewable Energy
Why did you choose this program?
I chose ERE because I wanted to change the direction of my previous life career. I wanted to learn new and useful skills and be able to contribute positively to the community I live in. As cliche as it sounds, I wanted to do something meaningful. And I am now.
How did this program prepare you for your job?
ERE has prepared me extremely well for my job. I graduated over 3 years ago and I can say that the renewable technologies and building energy analysis topics that I learned in the classroom are ahead of the "real world" today. Every aspect of the courses help prepare you in more than one way, the spreadsheet you do in every class, all the reports we had to write, make my day to day functions at the City of San Diego a breeze.
What did you enjoy most about the program?
My ERE peers! A living proof that you're only as successful as those who you've surround yourself with. More importantly, the always supportive faculty, Arne, Beth, Brad, Bob Brown, Charles, Doug, David & Eileen, Lonny, Margaret, and Pat!. Where else will you call your professors on the first name basis? And the most beautiful campus surrounded by Redwood trees. Our annual ERE rafting trip remains a highlight for me.
What would you say to prospective students who are thinking about applying to this program?
Environmental Engineering is the most rewarding career one can enter into. Preparing for it is hard, but not impossible. There will be sleepless nights, but you won't be doing it alone. Humboldt's ERE program offers hands-on learning. You will be learning by doing, not just hearing about the topics. If you're passionate about renewable energy, you'll benefit from your time at SERC (Schatz Energy Research Center). If you're passionate about water and our natural environment, the forest is right there for all of the related research and experiments.
Other comments?
Join the clubs! ERESA, ASCE, SWE, RESU, SHPE, EWB!! Take the time while you're here to enjoy the outdoors. Take diving, surfing lessons!