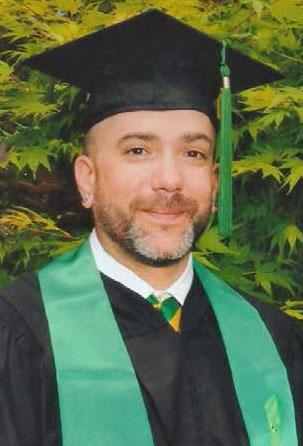 Jeffrey S. Navarro graduated from the Environmental Resources Engineering program at HSU in December 2014 and tragically died in a car accident a month later. We at ERE miss him dearly. Jeff's family, Rene Navarro and Peggy Bryer, has created another way for us to continue to remember Jeff through the Jeffrey S. Navarro Mentorship Program, which supports 2-3 ERE students per year to serve as mentors to their peers. Jeff was a kind and gentle person who made it easy for folks to be around him, always ready to help and dedicated to finishing his ERE degree.
With this mentorship program, the memory of Jeffrey S. Navarro will help more students obtain their bachelors degree in Environmental Resources Engineering. If you're interested in helping us to continue Jeffrey's legacy of altruism, you can make a contribution to the Jeffrey S. Navarro Mentorship Program Fund here.
Navarro Donor Profile
Forever Humboldt published a Donor Profile on their website, giving a thoughtful picture of Jeff's hardworking and generous spirit as well as a summary of the program. Check it out for more information and some quotes from our founding Navarro mentors, Jax Gill and Jason McMack. 
Resources for Mentees
This document contains many of the resources that our Navarro mentors provide to their mentees, including information about job opportunities, how to find internships, Research Experiences for Undergraduates (REUs), transfer units, interview tips and more.
2017-2018 Navarro Mentors
Tanya Garcia 

E-mail: tanyag@humboldt.edu

Bio: My name is Tanya Garcia and I'm double majoring in Applied Mathematics and ERE. I'm entering my senior year in the ERE program and am interested in water treatment, water resources and education. This past summer I worked at the San Francisco Public Utilities Commission as a design intern in the pipeline group. I'm looking forward to meeting the incoming students and helping them have the best experience they can at HSU. 

Chelsea Hernandez

 

E-mail: chernandez@humboldt.edu

Bio:  My name is Chelsea Hernandez and this is my fifth and final year in the ERE program at HSU with a minor in chemistry. My main interests are in water quality, chemistry, solid waste management and hydrology. This past summer I spent some time interning for an expanding non-profit organization specializing in composting around the city of Los Angeles to reduce food waste in landfills. As a mentor I hope to use my knowledge and experiences to help guide other students to success in the engineering program.

Benjamin Sheldon

E-mail: bdsheldon@humboldt.edu

Bio: My name is Ben Sheldon and this is my third year in the engineering department at Humboldt State. My interests include renewable energy systems, grey water and biochar. This last summer I spent time working for The Solar Collection, a solar company based out of Ashland Oregon. I foresee myself helping students come up with new and exciting ways to excel in their studies. 
How to Apply
So environmental resources engineering sounds interesting, but you are still not sure if HSU is right for you? Explore what HSU has to offer to both freshman and transfer students.
Paperwork
For paperwork and forms such as major and minor contracts, course planning guides, semester schedules, course rotations, office hours and more, visit our forms page!