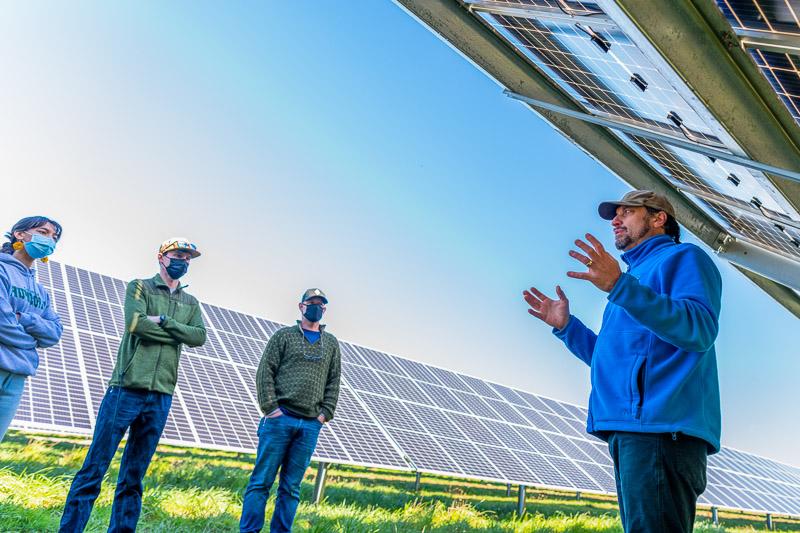 At Humboldt, our Engineering majors build close connections with peers and professors in small classroom settings. They get real-world, hands-on training in projects on campus and in the community. And they gain the experience for a fulfilling career that solves complex problems and makes a difference, locally and globally.
Real-World Experience
---
Undergraduates can get hands-on, experiential learning in engineering and design both on campus and in the community. Examples include renewable energy microgrids and water filtration systems—engineering in service of society.
Supportive Faculty
---
Our small class sizes mean one-on-one support from our faculty, whose expertise and connections will help you establish a solid foundation in engineering.
Career Outcomes
---
Our graduates are in high demand in a wide variety of fields that are tackling today's biggest problems, like climate change. Humboldt prepares you to join those disciplines.
Three major degree pathways will open in 2023
Environmental Resources, Energy Systems, and Mechanical.
Interested to get started with any of these pathways? Apply today to start your engineering career in Fall 2022.
Environmental Resource Engineering
The Environmental Resources Engineering program is one of the nation's largest, oldest, and most respected undergraduate environmental engineering programs. 
Our mission is to prepare engineers to solve complex environmental resources problems. The program strives to educate leaders who will sustain, restore and protect our natural resources and the environment. We prepare you to be a leader with a foundation in both the fundamentals and the big picture. 
The unique curriculum combines traditional environmental engineering with management of natural resources in applications such as ecological restoration and energy resource management. The program has three major areas of research strengths integrated throughout the curriculum and are the focus of our faculty's research interests: Energy, Water Resources, and Water Quality.
More information visit:
Environmental Resource Engineering Academics
Energy Systems Engineering
The Energy Systems degree prepares you for a career in developing, designing, operating, and analyzing clean energy systems.  
This new field of engineering will allow you to contribute to important work towards sustainable energy systems that help combat climate change. Our program will be the first Energy Systems Engineering degree in the California State University system and our graduates will be prepared to be leaders in this new field. 
As an Energy Systems Engineering student, you'll build on a solid foundation of engineering fundamentals so you can engage with project-based and interdisciplinary courses that cover key topics including building energy efficiency, renewable energy, electric power systems, and community energy planning. The program will be focused on energy-related infrastructure, devices, planning, and operations. It will emphasize systems integration, and use an interdisciplinary approach to considering how energy systems are situated in social, ecological, and economic contexts. The program will incorporate elements from civil, environmental, mechanical, and electrical engineering disciplines. 
Mechanical Engineering
Mechanical Engineering is an evolving discipline that adapts to the current needs of society. Mechanical engineers design, develop, build, and test mechanical and thermal systems, sensors, and devices. 
Mechanical Engineering is one of the most versatile engineering degrees and can encompass a focus across a wide range of topics, including environmental sensor design, air pollution control, sustainable power systems design, mechanical and electro-mechanical machine design, fluid handling systems, HVAC and building systems design, and food processing. 
Due to the variety of fields relevant to this profession, the undergraduate program covers areas in dynamics, materials, thermal/fluids, vibrations, controls, computer aided engineering, design, and manufacturing. Areas of advanced coursework and research could include advanced energy systems, sustainable energy systems, biosensors, computational modeling, and sustainable manufacturing. 
M.S. in Engineering and Community Practice
The one-year M.S. in Engineering and Community Practice degree is designed to develop future engineering leaders. The degree addresses both state and national workforce needs and is tailored to those who wish to pursue resource management positions that require strong technological and management skills with a particular focus on interfacing and working with Indigenous and traditionally underserved communities.  
The program includes an engineering design concentration, an engineering professional development component, coursework that explicitly address environmental justice, Indigenous sovereignty, tribal history and law, environmental sustainability, natural resource  economics, and a capstone project. 
Possible areas of concentration include: Clean and Renewable Energy Systems, Aquatic Restoration, and Watershed Protection and Management. Potential partnerships for projects would focus on traditionally underserved communities such as our local tribes. 
An integrated approach to learning by doing
We are reimagining engineering education to support students on their path towards a career in the engineering field of their choice.
---
In the first two years, all students who are interested in Environmental Resources, Energy, or Mechanical Engineering will take a core set of foundational courses together. These fundamentals provide a well-rounded basis in natural sciences, humanities, math, computational science, data analysis, and engineering design. 

At the upper division, students will choose a major pathway and complete specialty engineering courses that go deep in that area of expertise. These courses take a project-based approach, providing students experience with hands-on opportunities to learn by doing. 
One more year for a masters: Students who finish their undergraduate degree in Environmental Resources, Mechanical, and Energy Systems Engineering will have an option to continue their education in our new, interdisciplinary Masters of Engineering and Community Practice. Engineering and Native American Studies faculty are combining their expertise to offer this advanced degree.