The Environmental Resources Engineering program (ERE) is one of the largest, oldest, and most respected ABET-accredited undergraduate environmental engineering programs. Our mission is to prepare engineers to solve complex environmental resources problems. The ERE program strives to educate leaders who will sustain, restore and protect our natural resources and the environment.
We prepare our students to be future leaders by establishing a foundation in both the fundamentals and the big picture. The unique ERE curriculum combines traditional environmental engineering with management of natural resources in applications such as ecological restoration and energy resource management. Our emphasis on hands-on learning also sets us apart from most undergraduate environmental engineering programs. ERE students engage in frequent labs, field trips, and team projects, while enjoying a cooperative learning environment in classes that typically have fewer than 24 students.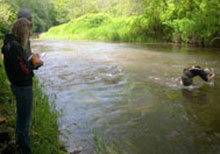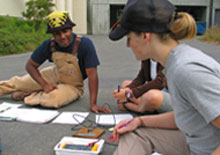 ERE students work in teams to solve problems and sharpen critical thinking skills
Find more information on the ERE program on the following pages:
Details of the major components of our program energy resources, water quality, and water resources.
Find the ERE mission statement, program educational objectives, and student outcomes, as well as links to ERE student enrollment, demographic, and degree statistics.
Program History
Find out how many students are in the ERE department or how long a professor has been teaching at Humboldt.
Learn more about our department mission statement and our External Advisory Committee.
How to Apply
So environmental resources engineering sounds interesting, but you are still not sure if Humboldt is right for you? Explore what Humboldt has to offer to both freshman and transfer students.
Paperwork
For paperwork and forms such as major and minor contracts, course planning guides, semester schedules, course rotations, office hours and more, visit our forms page!