Team work, collaboration and written communication are critical skills employers seek. Your instructor is not your only resource to developing these skills while you are here at Humboldt. There many resources both within the ERE department and throughout Humboldt that will help you succeed in your classes and excel in the job market.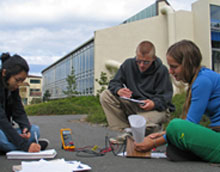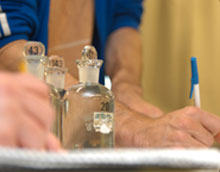 Engineering 115 students measure various forms of solar radiation (left), while engineering 351 students record the biological oxygen demand of local streams (right) 
Are you new to college? Want some hints on how to get good grades? A former ERE students explains how to be successful in ERE program.
Need help in a class? Get three classmates together and you can get help for free!
Find out more about the this year's mentors and about how the program supports Engineering students.
Many courses share common equipment, learn how to use it prior to lab.
Technical writing is one of the most important skills you will learn in the ERE department. Your instructors will expect you to know the information in this section.
Have a research topic, but don't know where to start? The Humboldt librarians have put together several resources specific to environmental resources engineering.
Other Resources
While at Humboldt there are many tasks that you will need to master, such as registering for classes, finding a professor's office, requesting a key card for access to the Engineering building, obtaining a summer internship, or just getting your email to work. This section highlights where you can find that information on the Humboldt website and more.
Find common forms and document that are useful for success in the program.
Find maps of ERE related buildings and professor's offices.
ERE majors and Environmental Systems grad students may submit an electronic request for 24-hour key card access to Allistair McCrone Hall (AMH, formerly SciD) and the Engineering computer labs for the academic year (fall and spring semesters). 
Non-ERE majors who are enrolled in ENGR classes for the current term may submit a key card request for access for this term only.
Find a pdf with instructions and screenshots for using vLinux at home or on-campus with a personal laptop.
Bentley Systems offers software for a variety of engineering applications, including the design, construction, and operations of roads and bridges, rail and transit, water and wastewater, public works and utilities, buildings and campuses, mining, and industrial facilities.  Interested ERE students and faculty may download and install a free copy of Bentley's software for academic use through the Bentley Education portal.  Instructions for creating an account and downloading the software can be found here.




How to Apply
So environmental resources engineering sounds interesting, but you are still not sure if Humboldt is right for you? Explore what Humboldt has to offer to both freshman and transfer students.
Paperwork
For paperwork and forms such as major and minor contracts, course planning guides, semester schedules, course rotations, office hours and more, visit our forms page!