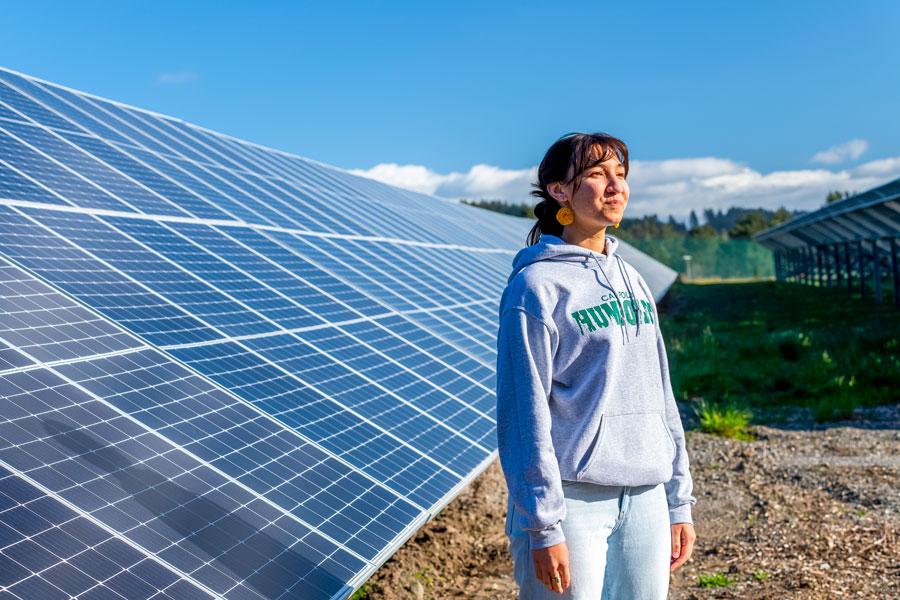 At Humboldt, our Engineering majors build close connections with peers and professors in small classroom settings. They get real-world, hands-on training in projects on campus and in the community. And they gain the experience for a fulfilling career that solves complex problems and makes a difference, locally and globally.
Real-World Experience
---
Undergraduates can get hands-on, experiential learning in engineering and design both on campus and in the community. Examples include renewable energy microgrids and water filtration systems—engineering in service of society.
Supportive Faculty
---
Our small class sizes mean one-on-one support from our faculty, whose expertise and connections will help you establish a solid foundation in engineering.
Career Outcomes
---
Our graduates are in high demand in a wide variety of fields that are tackling today's biggest problems, like climate change. Humboldt prepares you to join those disciplines.
Three major degree pathways will open in 2023
Environmental Resources, Energy Systems, and Mechanical.
Interested to get started with any of these pathways? Apply today to start your engineering career in Fall 2023.
Energy Systems Engineering
Energy Systems Engineering helps prepare students for careers in developing, designing, operating, and analyzing clean energy systems. Through hands-on work on campus and out in communities, our students learn a systems-thinking approach to engineering. Students build computational methods and data analysis skills, get opportunities for applied design work in elective areas they choose, and learn about the necessary climate science and societal context. 
Environmental Resources Engineering
Find your future at Cal Poly Humboldt. In the Environmental Resources Engineering program we are taking the next step in the evolution of the discipline. We are expanding the definition of environmental engineering so our graduates can create solutions to complex environmental problems that sustain, restore, and protect our natural resources. Our students look for big picture solutions to energy, water, and ecosystem restoration problems.
Mechanical Engineering
Mechanical Engineering is one of the most versatile engineering degrees and can encompass a focus across a wide range of topics, including environmental sensor design, air pollution control, sustainable power systems design, mechanical and electro-mechanical machine design, fluid handling systems, HVAC and building systems design, and food processing.
Engineering & Community Practice (

M.S.

)
Among the few programs of its kind in the nation, this one-year master's degree program is designed to develop future engineering leaders who work with and within communities to sustain, restore, and protect our environment. The program is guided by an interdisciplinary approach that draws upon engineering, resource management, and Native/Indigenous knowledges and practices to address environmental issues.
Environmental Systems (Masters)
Environmental Systems is an interdisciplinary Masters of Science program that helps students better understand and shape the complex systems that underpin our society. This degree is not housed under the School of Engineering but is designed for students who have an Engineering degree. Below are two options for furthering your Engineering education. 
Energy Technology & Policy
Energy Technology & Policy (ETaP) is a selective interdisciplinary graduate program focused on issues at the intersection of energy, the environment, and society. We seek students who are interested to make a difference in addressing some of the most important environmental and social issues of our times.


Environmental Resources Engineering
The Environmental Resources Engineering (ERE) option is part of the Environmental Systems Graduate Program at Cal Poly Humboldt. The option focuses on the analysis and modeling of land, water, and renewable energy systems. Career possibilities include work in environmental engineering, water quality engineering, renewable energy engineering, and water resources engineering.

An integrated approach to learning by doing
We are reimagining engineering education to support students on their path towards a career in the engineering field of their choice.
---
In the first two years, all students who are interested in Environmental Resources, Energy, or Mechanical Engineering will take a core set of foundational courses together. These fundamentals provide a well-rounded basis in natural sciences, humanities, math, computational science, data analysis, and engineering design. 

At the upper division, students will choose a major pathway and complete specialty engineering courses that go deep in that area of expertise. These courses take a project-based approach, providing students experience with hands-on opportunities to learn by doing. 
One more year for a masters: Students who finish their undergraduate degree in Environmental Resources, Mechanical, and Energy Systems Engineering will have an option to continue their education in our new, interdisciplinary Masters of Engineering and Community Practice. Engineering and Native American Studies faculty are combining their expertise to offer this advanced degree.