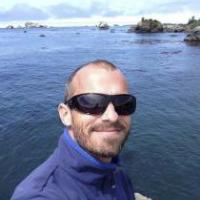 Job Description
As a Wastewater Engineer and Project Manager, my job entails reviewing RFPs, writing proposals, managing clients to establish scopes of work and maintain project delivery, creating and managing project budgets, preliminary engineering studies, overseeing CEQA/NEPA special studies and regulatory agency consultation, NPDES discharge permit consulting, water and wastewater process design, construction plans and specifications preparation, CWSRF/DWSRF and USDA-RD grant funding application assistance, stormwater and industrial process water treatment process design, onsite wastwater treatmet system design, HEC-RAS modeling for fish passage and stream restoration, HydroCAD modeling for stormwater runoff analysis, attending Community Service District Board of Directors meetings, and I make coffee.
Why did you choose this program?
I was working as a construction laborer from 2007-2009 right as the housing market began to fade. I was living in Mt. Shasta on an off-grid retreat on the flanks of the great volcano when I realized I was living in a dream. I knew I had to move forward and upward, always upward. I had been living at this retreat with a partner when a woman appeared from out of the snowing afternoon haze. The ground was covered with two feet of fresh snow, and this woman explained she was building a snow cave just a few hundred yards up the road from our house. She was posting up near a state park campground that was clearly not being used during the winter. We became quick friends as I assume she was familiar with the process of warming to strangers. Her name was Kiwaku (pronounced "Kee-wah-ku"), and she planned to live in the snow cave for the winter and was looking for a place to bathe, cook, and relax occasionally. Eventually I learned that she had graduated from the ERE program. Having never heard of this, she told me all about the amazing things that she learned and what she took from the program. I started looking into it, and things began to click as they do from time to time when you are looking in the right direction. I moved to McKinleyville the following fall to start school in the ERE program after doing my due diligence and everything began to fall into place for me. I grew up in the Central San Joaquin Valley near Fresno where agriculture was life. My family has also farmed for generations there, and my immediate family-owned a farm in northern central Nevada, between Battle Mountain (I-80) and Austin (I-50). So I had an inclination toward mechanical equipment and natural systems. Engineering appealed to my mechanical side and natural systems engineering appealed to my earthy side.
How did this program prepare you for your job?
The ERE program introduced me to projects that did not have a simple solution, opened my view of how to solve open-ended or very challenging issues with teamwork and communication, and guided me toward being a professional capable of being an effective team leader (and follower when necessary).
What did you enjoy most about the program?
I was in my second year when I met Professor Matthew Hurst in the chemistry department. He was my professor for Chem 110. I was really enjoying Chem 109 and 110, and I was fortunate to get the opportunity to help him in his water quality lab as a research assistant. He was preparing hundreds of water samples from Humboldt Bay using a variety of filtration apparatuses and then preserving the samples with acid. All of the sample bottles and lab equipment had to be extremely clean to prevent contamination for the trace metal analyses. Professor Hurst mentored me through a chemistry minor, where I took additional courses in instrumental chemistry, learning as much as I could about instrumentation for water quality testing. He also brought me into the world of Humboldt Bay water quality research! Which ultimately ended up becoming my masters project after I finished my undergraduate degree. Professor Hurst also introduced me to the Arcata Wastewater Treatment Plant through one of his projects. That was when Professor Brad Finney invited me to interview with Professor Bob Gearheart at the Arcata Marsh Research Institute (AMRI). I worked at AMRI under Professor Gearheart's and Professor Finney's guidance for five years ultimately, with a list of projects and people too long to list here. These two experiences feathered into my master's project compiling a nutrient budget for Humboldt Bay. All three of my prior mentors continued on as my advisory committee, helping me through two of the most amazing years of my life. Now I work as a wastewater engineer at SHN in Eureka, maintaining contact with University connections and doing what I love! That's what I enjoyed most about the program. The whole thing!
What would you say to prospective students who are thinking about applying to this program?
Think to yourself: Are you ready to be challenged? Are you going to be okay if you don't get perfect grades? Can you deal with making mistakes? Are you willing to work harder, possibly, than ever before? This program is exceptionally difficult, not just in academic terms, but the time and effort necessary to complete the work require sacrifice in your personal life. Be prepared for the mental and emotional challenges that come with something of this magnitude. Many underestimate it. You cannot always control the factors that make life difficult, but be aware of what challenges lay ahead so you can prepare to excel and be successful.