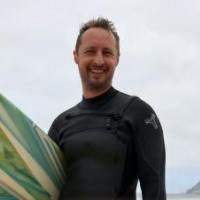 Job Description
My role at ESA is that of a coastal and civil engineer. My focus is on natural systems restoration design, coastal flooding hazards analysis, and sea-level rise adaptation planning. I joined ESA (formerly Philip Williams & Associates) in 2007 after completing a Master's degree in Ocean Engineering at the University of Delaware, and have been involved in restoration design of several thousand acres of tidal wetlands, lagoons, and beaches. The restoration work requires high-level planning, technical analyses including hydraulic and geomorphic modeling, field data collection, and preparation of construction plans and specifications. Some examples of this work are: the tidal wetlands restoration for the South Bay Salt Pond Restoration in South San Francisco Bay; managed retreat and beach restoration at Surfers' Point in Ventura, California; coastal lagoon restoration at Devereux Slough at the UC Santa Barbara campus; and much more.
Much of my work includes assessing the existing and future extents of wave runup and coastal flooding due to sea-level rise, which is often completed to address permitting requirements or to inform local planning. Our group has also developed innovative and break-through methods for assessing the erosion response of the California coast to sea-level rise.
ESA is also a leader in multi-objective climate change adaptation planning, striving to balance needs of infrastructure, habitat, and recreation. Our approach is to use natural systems as a major component of how our communities will respond to sea-level rise and other changes in our climate. For example, at Ocean Beach, San Francisco, we supported a multi-disciplinary team develop the Ocean Beach Master Plan to outline how the City and community can maintain a healthy beach over time in the face of sea-level rise. Subsequently, we helped the San Francisco Public Utilities Commission evaluate and refine the feasibility of the adaptation concepts that are now being designed to protect critical wastewater facilities while removing intrusive rock and rubble to restore the beach.
Why did you choose this program?
I selected the ERE program because I knew from a young age that I wanted to be an engineer. I always loved math and physics, and so applying that to the real world was something that always interested me. When I found out there was a program that did this for environmental and resource issues, I knew that was the direction I wanted to go. I also selected HSU because I ran track and cross-country, and the coaching and team were a great fit, and there were miles and miles of trails through redwood forests immediately adjacent to the campus.
How did this program prepare you for your job?
The ERE program covered a range of useful skills that directly apply to my job: the design process; hydrologic and hydraulic analysis and modeling; drafting; field data collection; and technical writing. The coursework and teaching styles helped train us to be highly efficient and useful to employers the minute we graduate, and sometimes before (internships I had with a construction firm Mallcraft, the Indian Health Service, and National Weather Service were all very helpful). The group/team approach to courses was also very helpful for what we do as a professional, which always relies on a team and working with others.
What did you enjoy most about the program?
I enjoyed being exposed to a wide range of technical topics, a focus on working as a team, and being taken seriously by the professors. There are so many directions that the ERE program can take you, and so my passion with water guided me toward the water resources, hydrology, and modeling courses. Through these courses, you are surrounded by a lot of motivated people and you have opportunities to work closely with them, and that was critical to learning the material and developing teamwork skills that will be needed in the future. Being taken seriously by the professors also gives one a chance to get a lot more out of their efforts that are applied, and consider the real-world problems that you may encounter as a professional. This also lays the groundwork for long-lasting relationships and knowing that you can call your old professors for advice or pointers in the future.
What would you say to prospective students who are thinking about applying to this program?
This is a world-renowned program that will set you up to be successful in many different areas of engineering and resource management, including consulting, agency work, or academics and research. The program requires discipline and perseverance, but the challenges of getting through the coursework will open up future opportunities. The program is located in an amazing place, with direct access to some of the best beaches, forests, and mountains you can imagine, and so that helps balance out the lab and computer time. Let your creativity guide you through the program, and don't be afraid to do things that you aren't sure about - you may open a door that you didn't know existed. One thing is for sure: we need more engineers and technical people to address the environmental problems and challenges that our society faces, and the ERE program is one way to create a foundation for becoming a future leader in this area.
Other comments?
Feel free to e-mail me if you are curious on my past and current experiences, and if you are interested in coastal engineering. Although the coastal processes were not covered much while I was in the ERE program, I was able to explore that in graduate studies and more in my professional career. There is a need for good coastal engineers that want to use natural systems for restoring and adapting our coasts and estuaries. RESPECT THE BEACH !