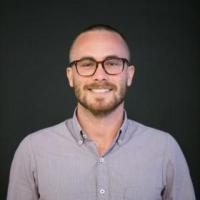 Job Description
I perform data and project management.
Why did you choose this program?
Growing up in rural southeast Missouri, I developed a strong appreciation for the streams and forests that split and dotted the landscape. I spent a lot of time there playing in nature and seeing the value in preserving it. Just before my senior year of high school I moved to a boarding school in Southern California. Two of my teachers there, both Humboldt alumni, encouraged me to peek behind the "redwood curtain" and look into programs at Humboldt. After checking out the school, I was drawn to environmental engineering because of my fervid desire to solve environmental problems. The ERE Program proved to be the right program for me because of the strong science education, highly knowledgeable faculty, and collaborative atmosphere among students. In addition, I was fortunate to have the mentorship of Dr. Beth Eschenbach, who encourages her students to make big dreams and follow them.
How did this program prepare you for your job?
Soon after graduating I was hired by Environmental Science Associates (ESA) in San Francisco, where I worked as a planner in their water department. After a couple of years at ESA, I pivoted career directions into the area of data analysis and project management, and have been working in this area ever since.
What would you say to prospective students who are thinking about applying to this program?
During my first two years at Humboldt I directed the on-campus compost program through the Waste-Reduction & Resource Awareness Program (WRRAP). There I was able to work with students from many different majors and help organize workshops and campaigns, as well as maintain the compost demonstration site. After my sophomore and junior years I obtained summer fellowships at the Department of Energy Lawrence Berkeley Lab. I also acquired a basic level of understanding of methods to model greenhouse gas emissions, learned the Statistical Programming Language R, and had the opportunity to network with other people who were passionate about studying climate change. It was a phenomenal experience. I strongly encourage current ERE students to work during summer breaks and/or part-time during the semester, even if it means graduating a semester or two later than originally planned. There are many great opportunities to apply what you learn from the working world to class projects and ERE club activities. For example, my Comp Methods 3 project was focused in part on the work I started at Lawrence Berkeley. Even more, depending of course on the type of work, there will likely be many opportunities to apply what you learn in your ERE courses to the work you do at your job.
Other comments?
I can't thank the ERE program enough for giving me the tools to pursue meaningful work. I'll always remember it as a unique and extraordinary program, and I hope you will too. Best of luck in your future! Be sure to use your ERE alumni network when graduation time comes and you are ready to enter the workforce.