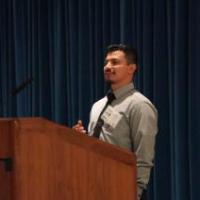 Noe Martinez Diaz, E.I.T.
Job Description
As a Public Works Assistant my scope of work focuses on the planning and design of street, water, sewer and other public works projects. This includes reviewing and evaluating project proposals and engineering specifications submitted by private engineering firms and conducting preliminary design studies. My work requires coordinating with the general public, contractors and developers, explaining technical information, Public Works Department policies and permit regulations. Other tasks includes reviewing and executing private and utility permits.
Why did you choose this program?
I knew my career was going to include engineering, but I was not sure which type of engineering. I noticed the negative impact brought up by a lack of green space, efficient transportation, and environmental issues while growing up in South Central LA. This encouraged me to focus on infrastructure improvements, therefore I started to explore civil engineering. During high school, I took an environmental studies class which inspired me to look into environmental science. When I saw the engineering program at HSU, a combination of both civil and environmental, I was really excited. My eyes widened as I flipped through the pictures of the great outdoors the campus had to offer. As cheesy as it sounds, I did not choose this program, this program chose me.
How did this program prepare you for your job?
This program prepared me tremendously in terms of field work, data analysis, and professional development. As much as I would love to go into detail about the sample collecting at the Arcata Marsh or the intensive debugging of a Fortran 90 program, I would rather go into detail about the way this program made a more resilient and resourceful professional. I have to admit, my first two years were difficult, but as soon as I completed my general education I realized how special the program is. Coming from a community that lacks resources, I was no stranger to finding creative ways to solve a problem. As I dove deeper into the program, I realized every class and professor provided me with a new tool and approach to a situation. Today, this helps me carry out my job more efficiently since the existing historic infrastructure can pose many challenges that require creative approaches.
What did you enjoy most about the program?
Where do I start? Only in the ERE program I would have been able to work closely with legends in their field, go to competitions and conferences all over the US, and experience the most breathtaking landscapes in California. If I had to choose one aspect I enjoyed the most about the program, it would be the academic culture. The positive and supportive attitude of the staff and the students helped me not only go through the program, but enjoy the many opportunities available to be part of an engaging community. At a certain point in the program, I was doubting my ability to finish, but as an act of desperation I joined the Environmental Resources Engineering Student Association (ERESA)/ American Society of Civil Engineers (ASCE) student chapter. By graduation, I had become the president of this club, helped achieve 1st place in the ASCE MidPac Wastewater Treatment Competition, implement appropriate technology project at the Dominican Republic, competed at the National Renewable Energy Research Laboratory in Denver, and become one of the founders of the Society of Hispanic Professional Engineers student chapter. This was a by-product of the outstanding leadership in the program and the values shared by the teachers, students, and community. Even though the road to graduation was not easy, the program provided an environment where students can develop to their full potential. The students I met during long nights are my mentors and people who inspired me to always strive to make a positive impact.
What would you say to prospective students who are thinking about applying to this program?
The ERE program has much to offer, make sure to enjoy as much as you can, but enjoy responsibly. Why enjoy responsibly? Because there are so many clubs and projects you can be involved in that it can be overwhelming to try to do all. The department does an excellent job with providing opportunities for students to explore the type of work you can expect in this career. Try to explore different fields, but go for quality rather than quantity. Remember, engineering focuses on problem solving and learning, scenarios might be different but the approach can be similar. Also, enjoy the outdoors during your academic careers, there is so much you can explore.