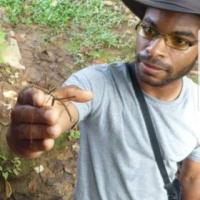 Job Description
I work for the California Air Resources Board as an Air Resources Engineer in the Compression Ignition & Heavy-Duty Certification Section. I certify on-road heavy-duty vehicles/engines (Semi trucks, buses, etc.) and off-road diesel engines used for off-road equipment (tractor, loader, etc.). Before a manufacturer can sell an engine or vehicle in CA, they must receive an Executive Order (EO) from CARB which says they meet all current emission standards and requirements. Without this EO a manufacturer cannot sell their engines or vehicles in CA. I review technical documents, engine/emission data from manufacturers that demonstrates that their engines meets emission standards for the full useful life. I like to tell people that I clean up the air one diesel engine at a time. I also certify heavy-duty electric vehicles, hydrogen fuel-cell vehicles, compressed natural gas vehicles, and hybrid vehicles
Why did you choose this program?
I love Math and Science, but most of all I love protecting and persevering the environment and nature. ERE gave me the opportunity to study a wide range of subjects such as Biology, Physics, Chemistry, Math, Soil Science, and much more. ERE was a truly interdisciplinary major which helped me have deeper understanding of the Biological, Physical, and Chemical processes that occur and govern our environment. We only have one earth, and I feel it is our responsibility to protect it and all its inhabitants. In addition, Environmental Engineers can earn good pay and have the ability to work a 40 hour work week, which meant I could have a good work-life balance.
How did this program prepare you for your job?
Since ERE is an interdisciplinary major, I was able to relate and converse with my colleagues from many different backgrounds and fields of study. The ERE Thermodynamics, Reaction Kinetics, and Chemistry classes helped me learn how the Diesel engine aftertreatment system converts NOx emissions into N2 gas and water vapor. Science is universal and fun! ERE also gave me a "never give up attitude." If you can make it through the ERE program you can do anything you set your mind to!
What did you enjoy most about the program?
My ERE peers helped me develop skills as a professional, and also helped with my personal growth. All the late nights working together on engineering assignments really builds camaraderie among peers. The small classroom sizes and the 1-on-1 attention I received from my professors was truly priceless. The hands-on learning experience in the ERE labs helped reinforced what I learned in the classroom. So it was not just chalk and talk, but chalk, talk and apply.
What would you say to prospective students who are thinking about applying to this program?
Do you like science, math, protecting the environment, and a challenge? Then ERE is for you!! Obtaining my ERE degree is one of the hardest things I have ever accomplished in my life. However, it is also one of the most rewarding accomplishments. The harder the climb, the greater the view! I still look at my HSU ERE degree hanging in my cube as a reminder to myself that I can do ANYTHING I put my time, effort and heart into. "The roots of education are bitter, but the fruit is sweet." – Aristotle You can find Environmental Engineering jobs in almost every state and country. Environmental issues don't just plague us here in the USA, other countries have their own environmental issues too. Obtaining an ERE degree will provide you with the critical thinking and problem-solving skills needed to tackle the worlds environmental challenges. If you change your mind after 10 years and decided you want to pursue a different career path, you will have the critical thinking skills, and the ability to learn new skills. I love the respect I get when I tell people I am an Environmental Engineer. This usually leads to a conversation about our impact on the environment or current environmental issues. Being an Environmental Engineer has given me the ability to educate people on the environment and how we can reduce our impact on the environment. I am now a proud vegetarian to help reduce my Greenhouse Gas footprint created from the meat industry. There is a huge "changing of the guard" at the public and private sector jobs. There are many senior engineers retiring, and they need new energetic engineers [you] to replace them and address the world's problems.
Other comments?
DO NOT go through college without obtaining any work or internship experience! Get summer internships and if you can get internships in a different state or country! I had summer internships in Colorado, Alaska, and Costa Rica...all paid! This is a great way to learn new skills, apply your current skills, travel to a different state/country, meet some AMAZING people (I met my wife in Costa Rica!), learn a new language (resume booster!) and get paid to do so. Win, win, win, win! Plus it looks exceptional on your resume.
The first internship is the hardest to obtain, but once you get your first internship, you will have some experience to add to your resume which will help you get the next internship. Do not worry if you get rejected from an internship, keep on applying, and start early! I started looking for summer internships in the Fall.
If you have the time and means, go to graduate school. More education means more opportunities. Some people thought I was crazy for jumping into graduate school right after graduating from the ERE program. However, it was my decision to make, and I do not regret my decision! Now I have a Master's Degree in Environmental Engineering from Sacramento State University, which helped set me apart from the rest of the engineers with just a Bachelor's Degree and helped me get my current job at CARB. I also worked part-time for CARB while I was a graduate student.
Don't be afraid of failure! Learn from your mistakes and use them to help you grow. Failure is an essential part of growth. I wish I would have taken more risks and done more things during my time at HSU. So fail often and fail BIG! At the end of the day, life is very short and unpredictable. So live the life you want to live, and remember work hard and play even harder! :) Good Luck Future Pioneers!