What we do
Engineers in Energy Resources focus on designing, installing, and operating technologies that use our resources in a sustainable manner. Humboldt Energy Resources engineers investigate:
Energy generation using renewable energy resources (such as solar, wind, and hydropower)
Sustainable energy storage and transportation
Energy efficiency through the optimal design and management of buildings.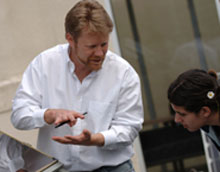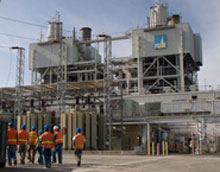 ERE students learn about electricity generation from photovoltaic systems (Left) and tours of local power plants (Right).
Classes
All ERE students are required to take Thermodynamics and Energy Systems I (ENGR 331). In addition, students can select their major electives to include the following energy related courses:
Facilities
Schatz Energy Research Center:
The Schatz Energy Research Center is an important auxiliary resource for the ERE Department. SERC's mission is to promote clean and renewable energy. The Center is responsible for a number of technological breakthroughs, including America's first street-legal PEM fuel cell powered car, as well as fuel cell patents and license agreements with corporations seeking to commercialize fuel cells. Students choosing to emphasize Energy Resources have an opportunity to work side by side with SERC research engineers and support staff.
Solar Energy Laboratory:
Located on the roof of the engineering building, this teaching laboratory includes a collection of photovoltaic modules, a flat-plate solar hot water collector, and all the necessary equipment for students to monitor their performance.
Thermodynamics Laboratory:
This facility is available for all laboratories associated with energy courses. The lab includes a fully instrumented refrigeration system that is used extensively in Thermodynamics I (ENGR 331) and a bomb-calorimeter that is used in Thermodynamics II (ENGR 471).
Research
Our faculty are actively involved in researching energy related issues. To give you an idea of the range of energy resources related research the following page is a list of recent publications by department faculty.
How to Apply
So environmental resources engineering sounds interesting, but you are still not sure if Humboldt is right for you? Explore what Humboldt has to offer to both freshman and transfer students.
Paperwork
For paperwork and forms such as major and minor contracts, course planning guides, semester schedules, course rotations, office hours and more, visit our forms page!