What we do
Engineering education has long been caricatured as a professor drily writing at the board while students scrabble to copy down the material verbatim. In the ERE department we believe we are not only developing students' engineering foundation but we are also developing minds. Developing crucial critical thinking skills requires applying new approaches to engineering education. Here in the ERE department we employ multiple learning techniques: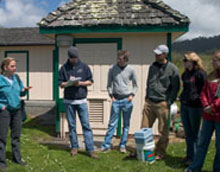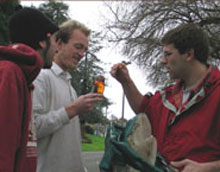 ERE students build critical thinking skills through group discussion and teamwork
The Klamath Connection Program brings a cohort of likeminded students into the program together. Bonding and building off each others' strengths the students find emotional and academic support from their cohort. 
Several of our classes employ Flipped Classroom and Just-In-Time Teaching techniques. These approaches require students to investigate material before covering the topic in class. These approaches build students' confidence in their own abilities and help students learn more deeply.
Many of our classes, including our senior capstone design class, require students to work in teams. Open ended projects require the students to define the task, develop the solution and expand their critical thinking and communication skills.
Our lectures are often interactive, employing active learning exercises. Rather than just require our students to remember a formula, we ask a student what the formula means, let the students discuss the formula with their neighbor, and then the class determines why the formula matters.
How to Apply
So environmental resources engineering sounds interesting, but you are still not sure if Humboldt is right for you? Explore what Humboldt has to offer to both freshman and transfer students.
Paperwork
For paperwork and forms such as major and minor contracts, course planning guides, semester schedules, course rotations, office hours and more, visit our forms page!