What we do
Engineers in Water Quality focus on water and wastewater treatment, treatment wetland design, contaminant fate and transport, and water chemistry. Humboldt Water Quality Engineers investigate:
Optimal water and wastewater treatment solutions for small communities
Performance of wetland based wastewater treatment facilities
Implementation of low cost and low energy wastewater treatment facilities in developing countries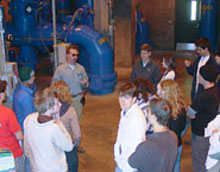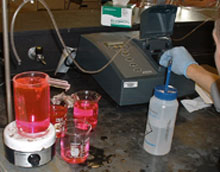 ERE students tour the Humboldt Bay Municipal Water District drinkingwater treatment plant and investigate contaminant transport in test reactors.
Classes
All ERE students are required to take Water Quality and Environmental Health (ENGR 351) and Transport Phenomena (ENGR 416) which serve as the foundation for understanding water quality. In addition, students can select the following water quality related courses as part of their major electives program:
Facilities
Water Quality Laboratory
Water quality classes frequently take instruments into the field to quantify water quality parameters in such as salinity, turbidity, pH, dissolve oxygen, and temperature. In addition, coliform, biological oxygen demand, nitrogen, phosphorous, and other trace ion concentrations can be quantified in water samples brought to the water quality lab.
How to Apply
So environmental resources engineering sounds interesting, but you are still not sure if Humboldt is right for you? Explore what Humboldt has to offer to both freshman and transfer students.
Paperwork
For paperwork and forms such as major and minor contracts, course planning guides, semester schedules, course rotations, office hours and more, visit our forms page!