Telaire 7001 Carbon Dioxide Meter & Temperature Monitor
Description
The Telaire 7001 is a hand-held carbon dioxide and temperature monitor. It can also be used to calculate the cubic foot per minute per person ventilation rate. It has a large, easy to read display, an output for data logging, a built in kickstand, and a power plug for the 6 volt adapter. It is made of a lightweight and durable plastic. The device runs on four AA batteries.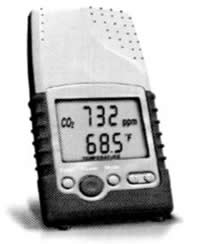 Operations
Power-Up
Press the Power Button
2 seconds will pass before the display will become visible
10 seconds will pass before the CO2 readings will be displayed
The device will need one minute in order to warm-up.
Elevation Correction
If you are using the sensor at an elevation over 500 feet, an elevation correction of 1015 ppm per 500 foot increment should be made.
While in the Normal Mode press the "Mode" button once.
Press "Enter"
Press mode to toggle between feet and meters.
Use the Up/Down button to adjust the altitude. The altitude can be adjusted in increments of 500 feet or 100 meters.
Once the altitude is set, press "Enter" to return to normal mode.
Temperature or Cubic Foot Per Minute Per Person (Cfm/person)
The display will cycle through temperature in F and C, Cfm/person, and off when the Up/Down buttons are pressed.
Using an External Datalogger
RJ-45 jack voltage outputs for CO2 and temperature are on the back of the device.
How it works
The Telaire 7001 utilizes two wavelengths of infrared radiation. The difference in absorption between these two wavelengths by the CO2 in the atmosphere is used to calculate the concentration in parts per million (ppm).
Specifications
CO2 Channel
Measurement Range
0-10,000 ppm display
0-20,000 ppm voltage output
Resolution
+/- 1 ppm
Accuracy
+/- 50 ppm or +/- 5% of reading, whichever is greater
Operating Conditions
32-122F (0-50C)
0-95% relative humidity, non-condensing
Response Time
<60 seconds for 90% of step change
Temperature Channel
Temperature Range
Display: 32-122F (0-50C)
Voltage Output: 32-104F (0-40C)
Display Resolution
0.1F (0.1C)
Display Options
F, C, Off
Response Time
20-30 minutes (case must be equilibrate with surroundings)
Power Supply
Battery Type
Four AA batteries
Battery Operation
70 hours
External
6 volt DC from external AC/DC adapter

Links

www.telaire.com For information regarding the device.

Telaire 7001 data sheets and manual.
How to Apply
So environmental resources engineering sounds interesting, but you are still not sure if HSU is right for you? Explore what HSU has to offer to both freshman and transfer students.
Paperwork
For paperwork and forms such as major and minor contracts, course planning guides, semester schedules, course rotations, office hours and more, visit our forms page!