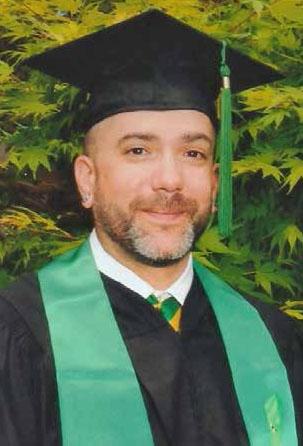 Jeffrey S. Navarro graduated from the Environmental Resources Engineering program at HSU in December 2014 and tragically died in a car accident a month later. We at ERE miss him dearly. Jeff's family, Rene Navarro and Peggy Bryer, has created another way for us to continue to remember Jeff through the Jeffrey S. Navarro Mentorship Program, which supports 2-3 ERE students per year to serve as mentors to their peers. Jeff was a kind and gentle person who made it easy for folks to be around him, always ready to help and dedicated to finishing his ERE degree.
With this mentorship program, the memory of Jeffrey S. Navarro will help more students obtain their bachelors degree in Environmental Resources Engineering. If you're interested in helping us to continue Jeffrey's legacy of altruism, you can make a contribution to the Jeffrey S. Navarro Mentorship Program Fund here.
Navarro Donor Profile
Forever Humboldt published a Donor Profile on their website, giving a thoughtful picture of Jeff's hardworking and generous spirit as well as a summary of the program. Check it out for more information and some quotes from our founding Navarro mentors, Jax Gill and Jason McMack. 
Resources for Mentees
This document contains many of the resources that our Navarro mentors provide to their mentees, including information about job opportunities, how to find internships, Research Experiences for Undergraduates (REUs), transfer units, interview tips and more.
2018-2019 Navarro Mentors
Sabrinna Rios Romero

 

E-mail: sr2264@humboldt.edu

Bio: My name is Sabrinna and this is my third year in the ERE department. I am very interested in renewable energy. This summer I am working at Schatz Energy Research Center as a student research assistant working on the California Biomass Impact Project. I am originally from Fort Worth, Texas. As a mentor, my goal is to help guide students through this program and share my advice from the experiences I have had. 

Tyler Caseltine 

E-mail: tcaseltine@humboldt.edu

Bio: I'm originally from Redding and this is my fifth year as an ERE major at Humboldt State. Some of my interests in engineering include renewable energy and resources, and systems modeling. I enjoy outdoor recreation activities such as backpacking, fishing, and losing discs at the Manila disc golf course. I became a Jeffery Navarro mentor to support students in their early successes in the ERE program. 

Hannah Gidanian

E-mail: hjg109@humboldt.edu

Bio: Hello my name is Hannah Gidanian and I am a transfer student from LA. I came to HSU two years ago because of all the trees! I love nature and to go to a school that is embedded in nature is a dream come true for a city girl like me. As I spent more and more time here I have come to understand that HSU is a community, the ERE department is like my adoptive family and Science D (the engineering building) is my second home. What I want to do as a mentor is introduce new students to the ERE department and help them ease their way into this rewarding and challenging program. I wish to make the transfer a bit easier by answering any questions they might have and give positive encouragement when needed. Cheers!

Joshua Steiner

E-mail: jds31@humboldt.edu

Bio: My name is Josh Steiner and I am originally from Santa Rosa, California, where I received my Associates of Science in Natural Sciences at the Santa Rosa Junior College. This is my third semester at Humboldt State as a transfer student in the Environmental Resources Engineering program. I have a strong interest in water quality and with my education at HSU, I hope to work on wastewater and drinking water projects along the west coast. When I'm away from school, I enjoy camping, backpacking, snowboarding, and enjoying all the outdoor activities Humboldt has to offer. Succeeding in this program involves teamwork and preparation and as a mentor, I hope to help incoming students have the resources necessary to achieve both of these things.
How to Apply
So environmental resources engineering sounds interesting, but you are still not sure if HSU is right for you? Explore what HSU has to offer to both freshman and transfer students.
Paperwork
For paperwork and forms such as major and minor contracts, course planning guides, semester schedules, course rotations, office hours and more, visit our forms page!