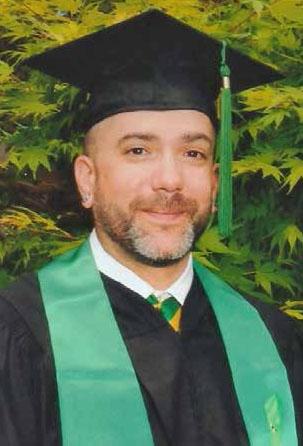 Jeffrey S. Navarro graduated from the Environmental Resources Engineering program at Humboldt in December 2014 and tragically died in a car accident a month later. We at ERE miss him dearly. Jeff's family, Rene Navarro and Peggy Bryer, has created another way for us to continue to remember Jeff through the Jeffrey S. Navarro Mentorship Program, which supports 2-3 ERE students per year to serve as mentors to their peers. Jeff was a kind and gentle person who made it easy for folks to be around him, always ready to help and dedicated to finishing his ERE degree.
With this mentorship program, the memory of Jeffrey S. Navarro will help more students obtain their bachelors degree in Environmental Resources Engineering. If you're interested in helping us to continue Jeffrey's legacy of altruism, you can make a contribution to the Jeffrey S. Navarro Mentorship Program Fund here.
Navarro Donor Profile
Forever Humboldt published a Donor Profile on their website, giving a thoughtful picture of Jeff's hardworking and generous spirit as well as a summary of the program. Check it out for more information and some quotes from our founding Navarro mentors, Jax Gill and Jason McMack. 
2021-2022 Navarro Mentors
Austin Payne

E-mail: ap417@humboldt.edu


Bio: Hello all! My name is Austin Payne. I am a senior in ERE, Environmental Resource Engineering, and anticipating graduating in Spring 2022. I transferred to Humboldt in Fall 2019 from Modesto Junior College in Modesto, California. I currently have interest in issues relating to water quality and water resource management. I am also involved with the Engineers Without Borders (EWB) club here at Humboldt. Outside of academics I enjoy most things outdoors including hiking, kayaking, and biking.

Hester Aw

E-mail: ha67@humboldt.edu


Bio: My name is Hester Aw and this is my third year at Cal Poly Humboldt as a transfer student. I was born and raised in Los Angeles and transferred to Humboldt from a CC near my hometown. I am passionate about the environment and its wildlife which is one of the many reasons why I want to contribute to sustainable and renewable resources as an engineer. Along with being your mentor, I am the Green Workplace Coordinator for Humboldt's Green Campus. I am also the Treasurer for Society of Women Engineers (SWE) club on campus. Outside of school, I love hiking, music, traveling, gaming, and spending time with friends and family (especially with my two dogs!). I look forward to working with you!

Caleb Wegener

E-mail:  ctw153@humboldt.edu


Bio: Caleb Wegener is an undergraduate in the Environmental Resources Engineering department at  Cal Poly Humboldt and is completing his senior year. He chose the program because of  his love of math and science and passion for public health. After graduation from Humboldt, he is  interested in pursuing a graduate degree in Resource Ecology and Management or a related  field where he can work in Ecological Engineering. Caleb has participated in the NSF's NHERI  REU program where he conducted field research related to natural hazards engineering in  Miami, FL at FIU. Caleb has just completed a summer internship with Eagle River Water and  Sanitation District in Vail, CO where he was graphing streamflows, modeling wastewater  collection system, and analysing wastewater flow data. Caleb has also worked for Humboldt as a  grader and instructional student assistant. In his free time, Caleb likes to surf or snowboard and  during vacations he likes to travel to electronic music festivals. Caleb would like to buy land and  create a sustainability impact center in Colombia where he can show prototypes of composting  toilets, rainwater and energy collection systems, water reuse systems, organic gardening, and  cultivate a living seed-bank of local flora.
How to Apply
So environmental resources engineering sounds interesting, but you are still not sure if Humboldt is right for you? Explore what Humboldt has to offer to both freshman and transfer students.
Paperwork
For paperwork and forms such as major and minor contracts, course planning guides, semester schedules, course rotations, office hours and more, visit our forms page!