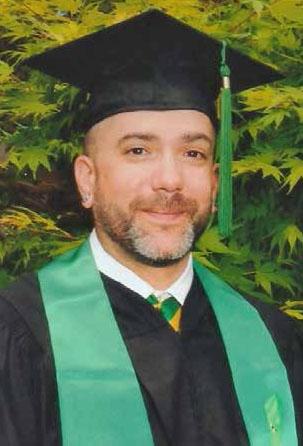 Jeffrey S. Navarro graduated from the Environmental Resources Engineering program at HSU in December 2014 and tragically died in a car accident a month later. We at ERE miss him dearly. Jeff's family, Rene Navarro and Peggy Bryer, has created another way for us to continue to remember Jeff through the Jeffrey S. Navarro Mentorship Program, which supports 2-3 ERE students per year to serve as mentors to their peers. Jeff was a kind and gentle person who made it easy for folks to be around him, always ready to help and dedicated to finishing his ERE degree.
With this mentorship program, the memory of Jeffrey S. Navarro will help more students obtain their bachelors degree in Environmental Resources Engineering. If you're interested in helping us to continue Jeffrey's legacy of altruism, you can make a contribution to the Jeffrey S. Navarro Mentorship Program Fund here.
Navarro Donor Profile
Forever Humboldt published a Donor Profile on their website, giving a thoughtful picture of Jeff's hardworking and generous spirit as well as a summary of the program. Check it out for more information and some quotes from our founding Navarro mentors, Jax Gill and Jason McMack. 
2020-2021 Navarro Mentors
MALIA SEELEY

E-mail: mes36@humboldt.edu


Bio: My name is Malia Seeley, this will be my third year attending Humboldt State. I grew up in Montana and chose HSU for the ERE program and because of the amazing location. I am interested in Renewable Energy. I also am a member of SWE (Society of Women Engineers) and the Women's Rowing team here at HSU. I am looking forward to welcoming students as a mentor this year and assisting in the navigation of online school while building a sense of community.

CLAIRE BAREILLES

E-mail: cb235@humboldt.edu


Bio: My name is Claire Bareilles. I am a fourth year ERE student, this will be my third year at HSU. I am a transfer student from Simon Fraser University in Vancouver, Canada. I am a Humboldt County local. I attended Arcata High School which is on the other side of the highway from HSU. I am a senior on the Women's Soccer team here at HSU and have been playing soccer my whole life. I have three dogs that I live to spoil. I plan to focus on renewable energy as I progress through my studies. I look forward to working with you all! 

JASON PATRICK REID 

E-mail: jmr219@humboldt.edu

Bio: Greetings, I hope you are well. My name is Jason Patrick M. Reid and I am originally from Brooklyn, New York. The 2020-2021 academic year will be my third year in the ERE program and I transferred from Santa Monica Community College (SMC) with an interest in renewable energy. While at SMC I worked as a Supplemental Instructor for General Chemistry one and interned for the UCLA Civil and Environmental Engineering Department (under the management of Jennifer Ayla Jay, Ph.D.) through the SMC/UCLA Summer Scholars Research Program. Throughout my time at Humboldt, I worked as: a student grader for Engr 210 (Solid Mechanics: Statics), a Greenspace Management team member through the Humboldt Energy Independence Fund (HEIF), an intern (under the management of Liza Boyle) analyzing the effects of instructor-led study sessions, and as a mentor through the Jeffrey Navarro Mentorship Program. I also assisted SWALE NYC on the SWALE barge, located in Brooklyn New York, and the Governor's Island location through the efforts of Lonny Grafman. When I am not focused on school I enjoy working on music, painting, swimming, and skateboarding. My goal as a mentor is to help students develop skills that will allow them to surpass students that came before them!
How to Apply
So environmental resources engineering sounds interesting, but you are still not sure if HSU is right for you? Explore what HSU has to offer to both freshman and transfer students.
Paperwork
For paperwork and forms such as major and minor contracts, course planning guides, semester schedules, course rotations, office hours and more, visit our forms page!